ComingSoon: Betty's Web™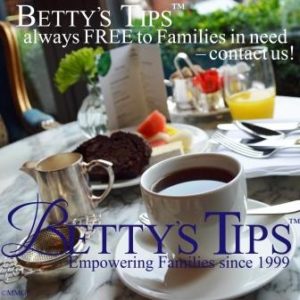 What do YOU need to know about brain health? A LOT! Watch this space for exciting news about Betty's University™ … coming soon to a webinar … with YOU!

Betty's Tips™ – in Programs, eBooks, Calendars, and more – teach families and caregivers what to do, WHY, and 'how to' nourish, protect, and boost brains of all ages.

Betty's eBooks™ cost less than a latte. 100% of profits from Betty's publications, products, and programs benefit families. Know a family in need? Betty's eBooks are FREE with Kindle Unlimited – and, always, to families in need.
Betty's™ IS Brain Health!
Almost everything called 'breaking news' about Alzheimer's and dementia is NOT news to Betty's.

HOW? An award-winning investigative reporter and learning facilitator, Maureen began studying Alzheimer's disease in the early 1980s – more than 30 years ago – learning (or creating) worldwide best practices for boosting brain health and connecting with family members living with cognitive impairment. She began sharing what she'd learned and practiced with other families in 1999 – calling it, simply, Betty's Love – then, still, always for free.

WHY? Maureen is a daughter, three-times granddaughter, and six-times niece of Alzheimer's disease and dementia. Proudly called 'The' Betty's daughter, Maureen encourages, empowers, and engages families worldwide living with Alzheimer's disease, dementia, stroke, Parkinson's, Down syndrome, ASD, MS, PTSD, CTE, depression, cancer/chemo … anything that causes what Maureen calls: Thinking Not Working™

WHO? Maureen is recognized worldwide as an SME from Alzheimer's to zebras. Best known in recent years as The Brain Whisperer™ and followed worldwide @BettysLove, she is admired for her positivity and practical, proven programs promoting brain health for all ages. More important to her, she's lauded as an always-passionate ADvocate™ for families like yours.

WHAT? Only Betty's only helps families find support, get information, and take action today – wherever in the world they live. No matter the format, no matter their journey, no matter where in the world they live:  No family has ever been – or ever will be – turned away from Betty's for inability to pay.

WHEN? Contact Bettys' today to ensure your family gets the support, information, action, and ADvocacy™ you deserve.

WHERE? As 501c3 Betty's Love Alzheimer's Charities (2007-2014): Betty's Love embraced, empowered, and engaged more than 15,000 families in person with customized programs, services, and Care-with-Love.™ In 2014, as simply Betty's: 10,999+ families resourced practical, proven, positive Betty's Tips™ and 54* Betty's University™ programs, activities, and services from countries on five continents.

Book Maureen to speak at your school, church, office, library, local Trader Joe's….

Betty's – Helping Families Think since 1999:
Love.Hope.CAN.JOY!™