Gobsmacked by Facebook posts shared by someones I Love – whose Essence I know to BE Love – I first penned #JeSuisHillary and its opinion piece† on 1 November 2016. Still and always, as then:

I don't want to rail against hate – i.e., on behalf of TRUTH decry TRUmp, the GOP, haters…. Ranting is against my wont, essentially contrary to my Soul, drains my Energy, imperils my brain AND my sanity….

Truly, I never aspired to BE a Brain ADvocate™ inspiring Families worldwide to seek JOY pursuing ALL brains CAN do (a LOT!) or ever conceived influencing Thinking and changing Lives via @BettysLove.

ButAND
⚕️Healer
🌹Woman
🔎Journalist
💙LOVE ACTivist
🧠Betty's Daughter
How can I NOT?!
How can't WE?
Do YOU?

Entering 2018 in solidarity with Women, Children, AND Men: #MeToo. #StillWithHer. I AM. ET….

†Je Suis Désolée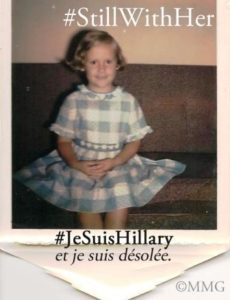 I am inconsolable.

This is inconceivable.

Trump is unconscionable.

Once an eager, earnest, Emmy® Award-winning journalist, I am mortified by media who allowed – nay, encouraged and then benefited from its promotion thereof – a factless, feckless horror of a man to pretend, let alone ascend, to be presidential.

I hereby hold accountable – in addition to the corrupt media – all who eschewed facts in laziness, traded America's entity for entertainment, spewed vitriol or, worse, all who stood by in silence while Trump and his KKKind fueled fires of misogyny, racism, and hatred which shall hold us hostage and our earth aflame for who knows how long.

History will show Hillary Rodham Clinton to be the smartest, most qualified, best Intentioned candidate ever to run for President of the United States. I am proud to have voted for her AND for a woman AND as a woman. Like Hillary, We The People will rise again, continue to do good, continue to change the world.
Love will trump hate. It must.
In the meantime: God help us all.

Thank you, Madam Secretary. God bless you.

And may God save the once-United States of America.

Amen.

Je Suis Hillary
Kind.

Smart.

Visionary.

Informed.

Courageous.

Forgiving (70×7).

Usually "different."

Genuinely Intentional.

Organized; problem-solving.

Experienced at being mistaken.

Confident, mistaken for Arrogant.

High Achieving; sometimes "Success"-full.

Assertive, usually misconstrued as Aggressive.

Forced to play by rules imperfectly placed – by men.

Passed over for promotion – by men and for men.

Consistently committed to public service.

Tireless in empowering all children.

Sincerely concerned for Nature.

Betrayed by false friends.

Cheated on by Love.

Assailed.

Abused.

These are descriptors of Hillary Rodham Clinton's experiences, character, and behavior – by friends (AND foes) who actually know her AND in my estimation.

I endeavor they also describe ME.

I AM Hillary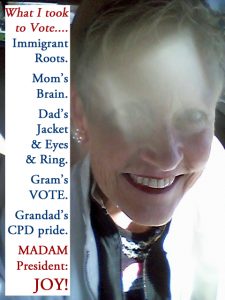 When I was a wee girl, no one ever said I could be President.

Or an award-winning writer or journalist.

Or a partner in leadership with Xerox or NBC or SHARP or RR Donnelley….

Or an business owner, home builder, entrepreneur….

Or a charity founder and ADvocate inspiring families in 125+ countries.

Or – well … ALL who I AM today.

Well I know:
Hate hurts.
If you join the Trump camp in bashing Secretary Hillary Clinton sans facts – and, worse, condone hate, lies, misogyny, racism, intolerance, inequality, tyranny … and perhaps worst, don't call out others on their acts thereof or their use of "the 'C' word" and others equally egregious and unconscionable (not to mention abusive, illegal, and likely treasonous) which have no place in American politics, let alone in any civilized society – well …

I will feel that personally. Not only because hate does hurt but, simply, because:

If you don't like Hillary, you mustn't like me.
And that will hurt me.

Of course it will.

Also of course – just like OUR Country's former First Lady, Senator, and Secretary of State Hillary Rodham Clinton – I'll keep BEing ME as described above.

I'll repeat as needed – i.e., ad nauseum: "Jesus wasn't welcomed in his hometown, either."

I'll practice what I teach: "What others think of me is none of my business."

Blessing ALL, I'll Just BE … ME.

I'll KEEP:

Faith-full;

Hope-choosing;

Animals-rescuing.

Child-Loving – despite being childless not by choice.

Writing to inspire Families, Women, Children, and BRAINS.

ADvocating for BRAINS, stem-cell research, women's rights-as-human rights, healthCARE, climate ACTion, constitutional evolution, fair immigration, gun control, fair taxes, tolerance, marriage equality, equal pay, equal education, equal opportunity … equality, period.

Prayer Warrior-ing – for PEACE in Our ONE World.

Praying – as a Daughter – for Ivanka Trump.

Praying for GOP and ALL haters.

Praying for YOU.

May God Bless America.

May ALL Americans STOP the hate.

May WE Love As an ACTION Verb!™

Amen.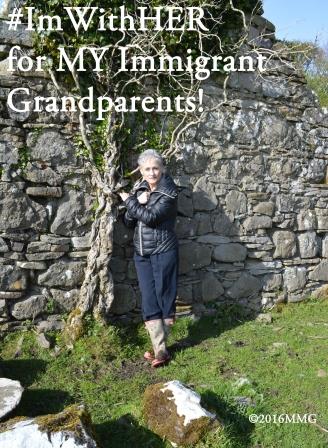 #JeSuisHillary
Penned-as-Prayer
as rail against hate
in pain from politics
mindful it is All Souls Day …
and praying Americans vote with our BRAINS.

Added in January 2017 – STILL in TRUTH on the 100th Day (and 173rd-plus of waking to "WT..?!"):

More than ever, I am praying – for YOU and OUR world and, yes, I #Pray4DJT AND Ivanka Trump, professed "Christians" Pence, Ryan, McConnell, McCain, Rubio … all GOP women AND men – that WE, ALL of us in OUR ONE world:

Simply LOVE Our Neighbors. As Jesus Preached and Lived and DOES. He, who was a refugee….

Opinion Post: JE SUIS HILLARY

Amended Photography:
I AM READY, MR. DE MILLE
VOTING WITH GRAM
ROOTS

Copyright © Maureen M Gavan
All rights protected.