Betty's Tip: If Mom thinks she's Irish or Dad says he's the Pope: LET THEM!
Better:  FÊTE THEM!

Gift ALL Betty's Tips™ – Boost Brains AND JOY today!

A LOVEly tale about 'The' Betty, Bronagh, and a fine Irish tour – best enJOYed WITH Alzheimer Mom & Dad … wherever they are….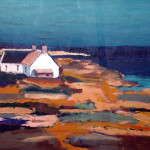 Bronagh was my neighbor , a native of Co. Kerry, Ireland, who emigrated, alone and sans any English, in 1950 at the age of 16.  When we met, she was newly wed to an Irish-American man whose first wife, Sarah, had Alzheimer's disease.  Sarah's journey was especially heartbreaking – she lived at home for more than 10 years in an uncommunicative state.  Understandably, Sarah's story formed Bronagh's understanding of Alzheimer's.

Imagine, then, Bronagh's surprise to meet Betty:  engaging, animated, articulate, interested and interesting – not at all what Bronagh expected.  Their first meeting came one lovely Saturday afternoon in 1995, sitting in sunshine on an outside deck, listening to birds and making lively conversation – as Irish women (and men) do….
A Lovely Irish Tale
"Mom, Bronagh is from Ireland," I said as a 'conversation starter.'

"Really?"  Mom said, turning to Bronagh with enthusiasm.  "We – my husband and I – we loved Ireland!"

"Where did you go?" asked Bronagh, genuinely curious – both about Mom's trip and her high-functioning cognitive abilities.

"Oh, we went all around … hither and yon … you know … sightseeing everywhere.  We especially liked that … what was it called…?"

"The Ring of Kerry?"

"Yes!"  Mom snapped her fingers conclusively.  "It was beautiful! And then we went up to … where was it?"

"The Cliffs of Moher?"

"Oh, yes!  They were specTACular! My husband … um … we had such a good time there …"

… and so we three spent an idyllic afternoon 'traveling' through Ireland. I sat, (atypically) quietly, gratefully witnessing their … shared JOY:
Mom laughing and engaged, animated, JOY-full, delighted to participate in such happy conversation;

Bronagh leaning forward, proudly describing her homeland and enJOYing this trip to it with (as she later called Mom) "my new friend, Betty."
That evening, after Mom & I went to Mass and she was safely ensconced back in her home, Bronagh came to my door. 

[It's worthwhile, here, to pause and mention that Bronagh is six feet tall, with gorgeous white hair and penetrating, green eyes. "A shturdy woman" if ever there was one. Standing in all her height and might – hands on hips, leaning down into me, eyes narrowed in piercing accusation – this strong and shturdy Irishwoman cut a daunting figure.]

"MORE-een!" she exclaimed in scolding tone, her Kerry brogue thicker than usual. "There is nuthing wrong wit' yer Muther!"

"Bronagh," I said after a moment – quietly, at-once smiling and broken hearted, my green eyes misty smiling into hers: "My Mother's never been to Ireland."

Collateral JOY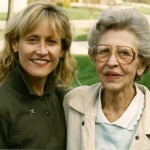 That Saturday afternoon on my deck, at about the half-way mark of Mom's Alzheimer's journey, is one of my favorite days, ever.   And I 'visit' that visit more often than you'd imagine – especially on St. Patrick's Day.

In Betty's University™ Programs like Family Matters™ and MemoRE™, Betty's teaches families like yours what to do, why, and 'how to' help your Mom 'remember' the people, facts, and events of her life. 

However, sometimes and inexplicably, the memories that do 'stay in there' – what stories Dad does retain – are pure fiction.  In those moments of her or his storytelling – heartbreaking AND JOY-full though they might be – I invite you to 'go there,' too.  I promise:  You'll be glad you did.

Go raibh míle maith agat.
Beannacht Duit.
Sláinte!
Agus Grá.

Maureen M Gavan,
proud and grateful granddaughter of Irish and English Immigrants and fortunate, grateful, and proud daughter of Joe and of Betty, who battled Alzheimer's disease for more than 25 years with Grace, courage, and, always, Love

Betty's Tip: Think Again!™
Think someone with Alzheimer's or Parkinson's or PTSD or … "can't" enJOY conversation, learn NEW things, find JOY every day? Look again at Ann's Art™ on this page and Ann's and in all Betty's Brain Boosters™ for families, caregivers, and children.

A longtime Betty's Practitioner, Ann Devine Williams thrives despite living with Parkinson's for 30+ years.  Ann beats her tremors with a newly found passion for painting – and, in painting, she inspires Betty's Families and the world: When Ann paints, she shakes not!

Join us WITH Mom in Betty's University™ for Betty's Language Lessons-with-Love to learn what all that Irish means. If you know someone in need of Betty's eBooks™ − please let us know. Contact Betty's today!

Even in later stages of brain-disease journeys, Moms and Dads CAN learn a new language … AND to play piano … AND to golf … AND … AND … AND!  Get more Betty's Tips o'the Day™ for your family. Gift Ann's Art™ and practical, proven, positive Betty's Tips™ for families, caregivers, & children – wherever in the world you live. ALL profits benefit families like yours.

Gift Betty's eBooks™ − less than a cuppa Irish tea and FREE with Kindle Unlimited!

AULD SOD Copyright © Ann Devine Williams
MOM & ME Copyright © Maureen M Gavan