"Why do you say that?"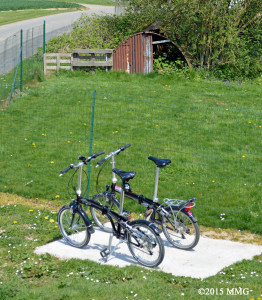 In retrospect, I realize that my earnest wish offered in innocence wasn't well received. At the time, I was simply shouting a wish for safe travel to two bicyclists 20 yards away – gentlemen (even) older than I, dressed for backpacking and cycling over high-trafficked, high-wind, winding roads through WWI's Somme Battlefields in France.

I had travelled nearly 100 years and several thousand miles to be there myself. They'd come less far in miles but further, perhaps, in other ways. I am an American who was (and still am) seeking my England-born, Ireland-bred, Australia Regiments-serving great-Uncles.

The cyclists were following the journey of one man's Grandfather. He was, like they are, German.

Soldiers on both sides of The First World War – called then, The Great War for Civilization – fought for, generally speaking, one of two reasons:

Belief – in a cause to which they committed everything, including their Lives.

Fear – if they didn't take up arms, they'd be killed by their own governments.

As I imagine those two gentlemen are, I am still 'processing' my Anzac Day trip. This encounter? No-small impression thereof. And, despite its myriad, still-paralyzing points, #AmWriting.

Follows a simple sonnet to honor my paternal Grandmother's Brothers, Charles Henry Costello and Martin Costello, and the millions more Soldiers just like them – on both sides. All families grieved. Many who remain grieve for and seek Them. Still….

A Prayer for Safe Passage©
Where be they now? Those who fell? Those who seek?
Those who sad memories, still today, keep?
War. Not for the meek. Tears ne'er infer weak
Of mind or Spirit are those who still weep

'Pour Les Enfants' – all whose Lives we review
With, now, a century's Wisdom. Concord?
May we forgive and pray that God does, too.
May we pass from war, hate … to Love. Accord?

Pray for Safe Passage, seventy times seven,
For all who Travel – on both sides of Heaven.
Amen.



A Prayer for Safe Passage©
– written Summer 2015 by Maureen M Gavan after visiting Somme Battlefields commemmorating Anzac Day Centenary
– inspired by two German Seekers and dedicated to the valiance and memories of:
Charles Henry Costello, KIA 24 July 1916 and lying, still, in a Pozières field;
Martin Costello, gassed in France and missing, still, in Australia; and
38 million 'casualties' – brave women and men whose families worried and grieved – and whose lost Innocence we must all grieve, still.
Tá Said Grá agus Cuimhne.
You Are Loved and Remembered.
Still and always.
LEST WE FORGET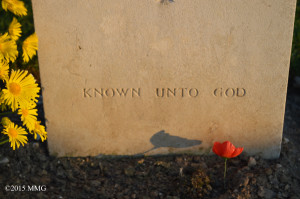 Charles Henry and Martin are the eldest sons of Patrick Costello (a Catholic born in Mayo, Ireland) and Susannah Cox Costello (a Protestant born in Derbyshire, England) – and the brothers of my Grandmother, Susannah Costello Gavin.

The eldest of Patrick's & Susannah's 12 surviving children, Charles Henry and Martin were reared Roman Catholic and lived and worked as miners in Wombwell, Yorkshire, before emigrating to America. From Chicago, where all their siblings subsequently stayed, they emigrated to Australia. As well as online records reveal, both men worked as miners before enlisting in the Australian Imperial Force (in 1914 at Liverpool and in 1915, respectively).

Thanks to the Australian Government's Department of Veterans' Affairs [DVA] and the Commonwealth War Graves' Commission's extraordinary online resources, I know Uncle Charles Henry was KIA 24 July 1916; I believe he lies in a field near the 1st Australian Division Memorial. Uncle Martin was honorably discharged for ill health consequent to being gassed in France in October 1916. Unfortunately, despite my family's efforts to find Uncle Martin – by his Sisters in the '50s and this past 18 months by and me (including via the DVA's wonderful resources and kind employees of several Australian cemeteries) – Uncle Martin's life after The Great War remains a mystery.

#ComingSoon: Safe Passage©
Read Maureen M Gavan's poignant essay of remembrance of her 'Aussie' great-Uncles and WWI heroes – and heroic soldiers and families on both sides of The Great War. Then join her call to action to make government-directed war history by 2018 – the 100th Anniversary of WWI's end. #ComingSoon to Amazon.com!


Updated 14 November 2015 – Five months to the day after I embarked on a life-changing journey, I wake to news of the devastation in Paris. I am struck by one statistic: It is the worst attack on French Soil since World War II. But no ONE woman or ONE man is a statistic.

Please read, Pray with Me?


Updated 11/11/2016 – in memory of and apology to: all Veterans; too-many Soldiers who died, literally, for civilization; the so-many Women & Men who still serve and protect Peace; OUR Country's and ONE World's now-too-fragile-idea, America.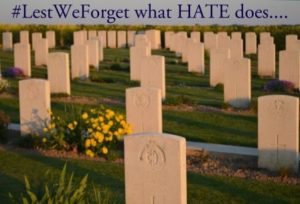 On behalf of BRAINS worldwide, I beseech YOU: STILL Care! STAY informed. ACT!

For inspiration, I recommend this wish-it-were-'fictional' editorial call to action to American Girls & Women (AND, please God, Boys & Men, too) and this unconscionably necessary call to denounce hate.

Betty's Tips™ are always free to Veterans and all families in need – wherever in OUR One World you live. Contact us.


Updated 2/23/2017 – I avoided politics in my work with Families and Children. Silly ADvocate™
NEW! #1 Betty's Tip™
Like Hate
Lies
Racism
Misogyny
Xenophobia
Islamophobia
"AltnernativeFacts"
Narcissism & Bullying
LGBTQ–Civil–Human Rights INequalities:

Mr. Trump IS BAD4Brains!™
Hate IS BAD4Brains!™
#LestWeForget what #HATE does: Hate KILLS.


Content and Photography:
SAFE PASSAGE©
HERO BROTHERS©
KNOWN UNTO GOD©
LEST WE FORGET©
Copyright © Maureen M Gavan.

This work and its link(s) contents contain confidential and proprietary information. It is a work of creative nonfiction; its characters, incidents, and dialogue are drawn from the author's recollections. You may not use, disclose, distribute, copy, or print this work without the expressed written consent of Maureen M Gavan. Thank you.

Subscribe for all MMG's TooManyWords:
FREE, secure, simple, and brain-boosting!